December 24th, 2018 — 4:02am
****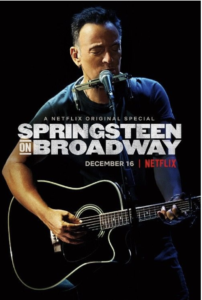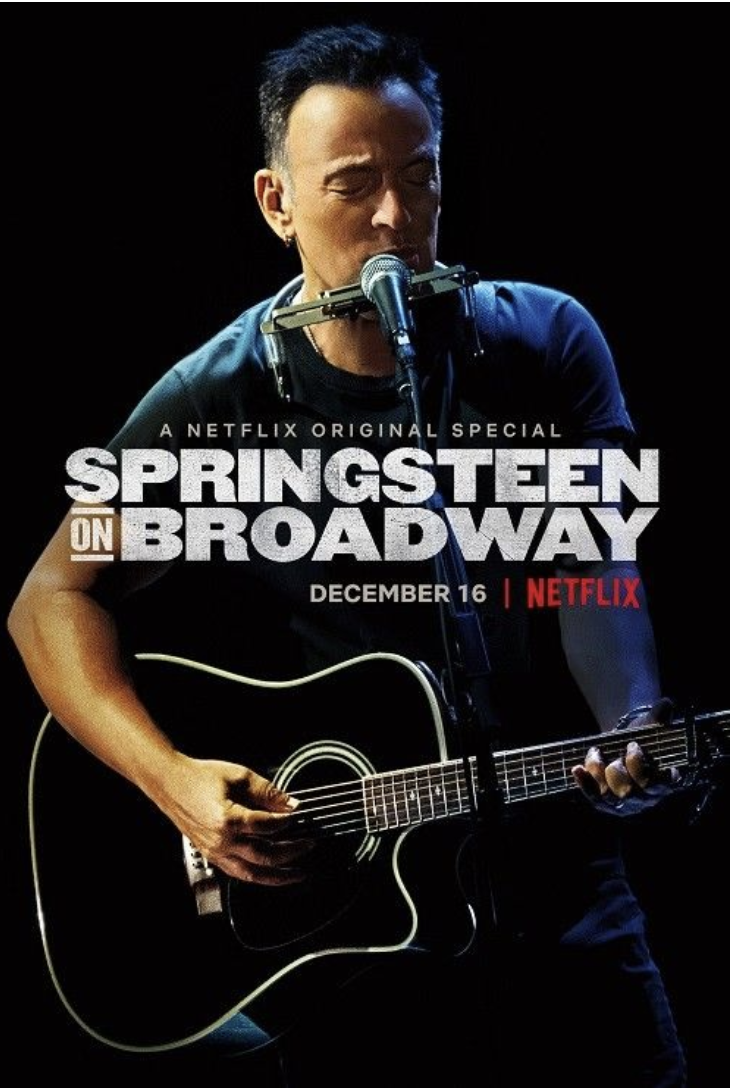 Springsteen on Broadway-nf
When you think of Bruce Springsteen entertaining an audience, you probably envision an open-air concert venue with him rocking away with his group, the E Street Band. That is not how "The Boss" chose to make his latest live appearance. The now 70-year-old music icon decided to appear at the Walter Kerr Theatre on Broadway in Manhattan. He provided an intimate one-man show, which had a 14-month limited run on Broadway but fortunately for many of his fans, the two-and-a-half-hour concert is now captured and available on Netflix. It is a close up of a very personal dialogue between Springsteen and the audience as he tries to tell the story of his life with his guitar, harmonica and piano and of course his voice and words.
He begins with a description of how he was impacted as an 8-year-old child by seeing a new singer on his small TV set in 1956, what for him was the beginning of rock and roll. Although not mentioning him by name, he obviously was referring to the first television appearance of Elvis Presley on The Ed Sullivan Show.
Springsteen describes his childhood and family and we soon realize that the real working man that he was always singing and telling stories about was in fact his father. Springsteen confesses that he himself never worked nine to five and that the magical description of the Jersey Shore was an exaggerated figment of his imagination although that is where he did live during his early years and near where he lives now. But certainly, the feelings and emotions about which Springsteen was singing came from the bottom of his heart. The spirit and energy, which inspired an entire generation, were unmistakably recreated on the stage at the Walter Kerr Theater. It was poignant, thoughtful and brought you close and kept you there. Spingsteen's use of language both in his monologues and in his songs is riveting and poetic. The pictures he paints remain in your heart and imagination.
Although this was a one-man show, he was joined for a few minutes and one song with his wife, Patti Scialfa. They sang a duet in which she did not have any solo interludes although he had several during their time together on stage.
This recorded concert is really a gift to his many fans who can now recreate at will the emotional connection that they had to a special time in their lives and to this man who inspired them to step up and find the part of themselves that was "Born to Run". (2018)
Please consider leaving your comments below