January 28th, 2022 — 1:41am
The Tender Bar
****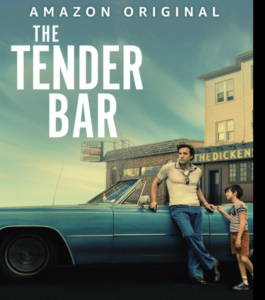 As this movie was unfolding, we could not help but think that it must be based on an autobiographical experience. We later learned that the story was written by journalist J. R. Moehringer who incidentally was recently chosen by prince Harry of England to co-write his autobiography.
We meet a young boy who was being raised by his mother with the help of his uncle. He knows little about his biological father who is a radio personality in a distant city. He is destined to live out the fantasies and expectations of his loving mother and this leads him to attend Yale University. He falls in love and becomes successful in his work. The details of this film are quite unique and intriguing and allowed the viewer to believe that it had come from real life. Special kudos to the actors who played the young man, Daniel Ranieri, who portrays him as a young boy and Tye Sheridan who has the role of him as a young man. Their acting and the overall cinematic experience reflects the outstanding work by the director George Clooney. Also, compliments to Ben Affleck as the uncle and Lily Rabe as the mother. Another familiar face in the film was Christopher Lloyd as the grandfather.
This is one of those films that is captivating, enlightening and even allows the audience to "feel good" at its conclusion!