The Eyes of Tammy Faye
****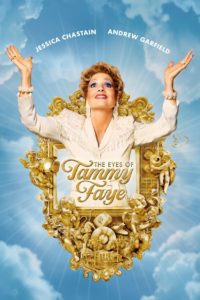 Even if they are not our religious cup of tea, we all have heard about the famous TV evangelists such as Pat Robertson, Jerry Falwell, Billy Graham, Joel Osteen, and, of course, Jim Bakker and his wife Tammy Faye. This film, directed by Michael Showalter, takes a deep dive into the lives of this duo played by Andrew Garfield and Jessica Chastain. They both were fantastic in their roles and Ms. Chastain is being recognized with an Oscar nomination. She clearly was able to sing, be the voice of puppets and play the role of a wife demonstrating the complicated relationship with her husband as well as their work as a famous religious duo.
This film gives us a view of the behind the scenes evangelical politics. The storyline traces Tammy Faye's life from being a little girl, to becoming part of this famous couple and of course her very complicated interaction with her husband. The film allows us to get some insight into the politics, corruption, infidelity, and many other fascinating aspects of their lives. Interestingly, we know very little about the two children of this couple. We see her giving birth to her children, but there is no further mention of them during the film
The movie is unique, well done, and we strongly recommend it.
Category: 4 Stars, Documentary, Drama | Tags: Andrew Garfield, evalngelical, Eyes of Tammy Faye, Jessica Chastain, Jum Bakker, Tammy Faye Bakker Comment »