May 29th, 2015 — 6:04am
****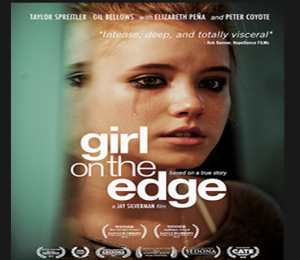 Girl on the Edge-sp
This is an independent film based on Director Jay Silverman's real life experience with his daughter. It is very well done with an excellent screen play by Joey Curtis with the help of Jay Silverman and writer Joe Gamache. There is an outstanding acting job by Taylor Spreitler. Although over 18 years old, she did get into the shoes of the 14-year-old main character that she played. Likewise, Gil Bellows was superb as the father ,who once he woke up to what was happening to his daughter, became appropriately angry and frustrated. Amy Price-Francis did a very believable job as the stepmother. Kudos are also given to the late Elizabeth Pena for her sensitive performance as one of the staff people at the rehabilitation center who understood the role that horses could play in therapy for young people. Peter Coyote could not have been better as the understanding empathic director of the rehabilitation program to which the young girl was sent.
This movie really presents us with two aspects of what this 14-year-old girl had to face. The first is that we could see what could happen to a young girl who begins to experiment with alcohol, perhaps with drugs and sex, and gets slipped a date rape drug where she doesn't remember what happened to her. That is until she sees naked pictures of herself on the Internet and the terrible consequences in her life after such widespread exposure.
The other part of the story is about what a treatment program away from her loving family might be like. In this case, it was with a sensitive caring staff as well as interaction with other girls in the treatment program. It showed how horticulture therapy (teaching the young people to appreciate the value of growing plants and food) could be therapeutic as well as learning to interact with horses. The scenes of the equine therapy were quite moving. Watching the horse that the girl connected with, as it mirrored her actions, was quite amazing.
In a post-film discussion with the movie director, Jay Silverman, most of the audience acknowledged that they had a close relative or friend who had experienced similar issues and problems to that of the main character of the film. While most people might not be able to afford the kind of rehabilitation treatment that this girl did have, the emotions engendered are universal. This movie has been winning various awards at film festivals throughout the country and internationally. We believe it is a worthwhile experience to see this movie in theaters as well as at home with family . It also should be shown in middle schools and high schools to young people and should be a stimulus for discussion with teachers, counselors, and parents. It probably won't be available until later in the year but keep it on your list of movies to see. (2015)