December 11th, 2018 — 5:48am
***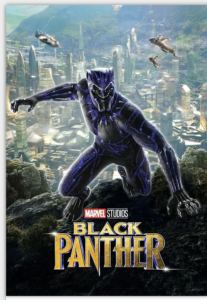 Black Panther
This story is founded on the premise that hidden in deepest Africa is the Kingdom of Wakanda which due to the existence of a special magical powerful substance, the people secretly live there with very advanced technology that is hidden from the rest of the world. They are ruled by a king who is challenged by a cousin who wants to rule the kingdom in order to use the special powers to help other black people throughout the world. It is customary that when someone challenges the king, there is a mortal physical combat to determine who shall rule the kingdom.
The cast of many are all black except for one villain and one CIA agent moderately involved in the storyline. The stars of the movie are Chadwick Boseman who plays the Black Panther and Michael B. Jordan who challenges him, as well as Lupita Nyongo, Danai Gurira, Letitia Wright, Angela Bassett, Daniel Kaluuya, Winston Duke, Forest Whitaker, Andy Serkis and Martin Freeman. The real stars or at least the co-stars are the cast of what seems to be a thousand people listed in the credits at the end of the film. This is because this is a movie with some very special effects, animation that is intertwined with the human actors who are in elaborate costumes which seems to blend ancient African garb with fancy, shinny jewelry, face masks along with science fiction garb that emanates from Star Trek and beyond.
At times, the stories which appear to animate the human action into shooting with special guns and slicing with large knives and swords reminds one of the action videos that we see our grandson watching and playing on his iPhone.
The movie is directed by Ryan Coogler and is written by Coogler, Joe Cole, Jack Kirby and Stan Lee. Lee, of course is known for also creating Spiderman, the X-Men, Mighty Thor, the Fantastic Four, the Incredible Hulk, Daredevil, the Ant-Man and many more characters. He died this past month at the age of 94.
It is interesting to see that in this modern-day movie, the women in the film are depicted often with shaved heads being good fighters and possessing great power but all subservient to the king. Still it is the women who create the possibility for change. The movie is also special because it is a kind of parable about the world today and the choices between isolation and helping others. The ending brings hope in the film and just possibly in the real world
It is not surprising to see that the budget for this movie was over $200 million and the box-office thus far has been $1.3 billion and that's not counting the Blu-ray and DVDs which are approaching another billion dollars. This movie and the main character, the Black Panther for sure will live in the hearts and memories of this current generation of moviegoers especially in the minds of the kids. It is worth the ride. (2018)