April 7th, 2017 — 5:03am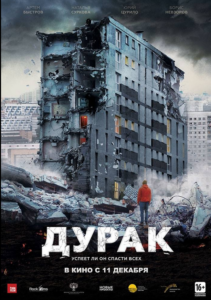 ****
The Fool (In Russian with English Subtitles) -nf

This very interesting and engrossing film is a terrible indictment of life in Russia under Vladimir Putin.
Dima Nikitin (Artyom Bystrov) is a plumber who works for the government. Early in the film, we learned that he, like his father is an honest man who doesn't engage in the usual stealing, bribes, and corruption that commonly occurs in the work environment in Russia. He then finds himself called to a large apartment house in the evening because of a broken water pipe. He quickly realizes that this building is severely damaged and is on the verge of imminent collapse which could be fatal to the 800 men, women, and children who live there. Mr. Nikitin attempts to contact his absent supervisor. When he is unsuccessful in doing that he then arranges an emergency meeting with the mayor who is being celebrated at a gathering with many other city officials that evening. It becomes apparent that money which had been allotted for previous repairs and modernization of this old building was diverted to various city officials. In fact there is a web of siphoning off money for rebuilding and repairs which includes all levels of this small city government. There are no funds for repairs or for temporarily housing the 800 residents of this doomed building which is expected to collapse within 24 hours. We soon realize that we are learning how in Russia and in Russian society, government officials pass around government funds at the expense of the masses. We understand what awaits the fate for an individual with a conscience who feels that this is wrong.
Could there be corruption in some real estate projects in the United States? Of course there could be and we read about occasional government officials being tried and sent to jail for such activities. However, this movie spotlights the pervasive corrupt fabric of Russian society and government. It was interesting to read several comments and reviews of this film by Russians who affirmed the validity of the dark picture of Russia painted by this movie.
This film is an outstanding cinematic accomplishment by Yuri Bykov who is the screen writer and director. This film certainly would have deserved the consideration for being nominated as a best foreign film from Russia of that year. Needless to say the Russians bypassed this movie for that honor. (2014)