April 8th, 2019 — 7:44pm
****
Best of Enemies-rm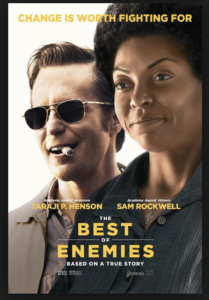 This is ultimately a feel good movie, but it is hard to believe whether this is a true story that went down as it is depicted in the film. Truth is stranger than fiction and the movie is based on a  story, which was confirmed at the end of the film by showing us some clips of the real people.
The setting is Durham, North Carolina in the 1970s. The Ku Klux Klan is active and we meet the local Klan leader, C. P. Ellis (Sam Rockwell). We also meet a local black activist, Ann Atwater (Taraji P. Henson). Both of them are about to clash after a fire makes the black grade school uninhabitable. There is great conflict as the local city council has to decide what to do since the white folks do not seem to want to share their grade school with the black children who have lost their school.
We never heard the term "charrette" before. It refers to a meeting in which the various sides of a conflict get together to resolve the conflict and work out a solution. The local city council brings in a "charrette expert", Bill Riddick (Babou Ceesay) who sets up a committee to discuss and vote a solution. The "coaches" of the committee were appointed to be the clan chief and the black activist. We get a glimpse of the back story of some of the characters especially the clan leader who has a hospitalized developmentally disabled child. We also meet a local white pharmacist who is the member of the committee and he himself has hired a black Vietnam war buddy to be his assistant manager in his pharmacy. We see that the local clan group likes to practice shooting guns and are prone to intimidate white people who are sympathetic to blacks.
You might say that the story line is somewhat predictable, but it still created a strong emotional impact on us, which was made even more powerful as we learned more about the real people upon whom these characters were based as we saw them speak during the credits.
Director, Robin Bissell certainly knew how to pull our emotional strings and Mr. Rockwell and Ms. Henson may get some award nods for their performances (2019).
Your comments are welcome in the Comment Section below