August 15th, 2021 — 8:18pm
Breakfast at Tiffanys
***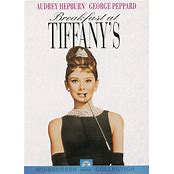 First of all, the title has very little to do with the theme of the movie. The film is clearly a story about the 1950s. One of the old fashioned themes is that when it comes down to it, the woman is owned by the man, although the woman may very well negotiate the sale. Premarital sex is for sale especially among the wealthy as we see through the main characters and it is the woman once again who actually arranges the deal.
The setting is New York City, specifically Manhattan, during the 1950s. The glimpses of the automobiles and the streets and the people seem quite real to those of us who lived in New York during this time period. Most of the action takes place in and out of these Manhattan apartments but this is not what you think of when you think of an apartment house but rather what is called a Brownstone. (Buildings which were once large homes, now divided into several apartments on each of 3 or 4 floors.)
The main character, Holly Golightly, is a care free spirit, hard to pin down, always a step ahead of the sugar daddy she aims to attract. She ultimately falls in love with another tenant in her apartment house played by George Pepard. Audrey Hepburn who is 31 years old at the time of the film is sweet, charming, and very complicated as well as being quite beautiful.
We came away from this cinematic experience with an appreciation of a great actress of her time and an enjoyable look at delightful classic movie