December 15th, 2018 — 8:53pm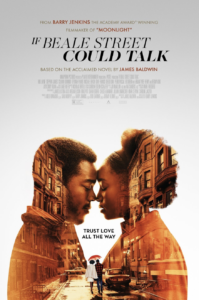 *****
If Beale Street Could Talk -rm
This is a very moving story set in the 1970s. A young couple who have known each other since they were kids fall in love. She becomes pregnant and we see their enduring love despite a tragic situation where he must go to prison for a crime he didn't commit. If the movie were just this, it would be an outstanding film.
However, it is much more. It is a tremendously powerful story that captures many of aspects of the black experience in our country during this time period. In this case, "Beale Street" of the title, while an actual street in New Orleans, is symbolic as the story actually takes place in New York.
The movie is brought to the screen by a great filmmaker, Barry Jenkins, who was director and screenwriter as he adapted the story by iconic novelist James Baldwin. We believe this may be the first of Baldwin's novels to be made into a movie. Jenkins may very well be leading this outstanding movie-making team to an Oscar as he did with the movie Moonlight.
We can't recall such a nuanced sensitive performance by an actress who is appearing in her first movie. But that is exactly what Kiki Layne did as she inhabited the role of the 19-year-old Tish, the young woman who is experiencing her first love, pregnancy and seeing her man only available behind bars. Likewise, Stephan James is outstanding as "Fonny" the handsome black man who despite his strength of character, tender love of his girlfriend and determination to realize his hopes and aspirations, sees his dreams shackled. There are also some outstanding performances that deserve mention by Regina King, Colman Domingo, Brian Henry, and Dave Franco.
The movie is riveting and painful because it is done so well and we know that it rings true. The film also had an excellent soundtrack in the background with composition by Nicholas Britell. It ends with a familiar melody which reminds us that there are many Beale Streets which are still around the corner even in our modern-day U.S.A. (2018).
Please consider leaving your comments below