November 28th, 2017 — 11:54pm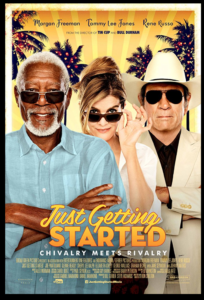 **
Just Getting Started-sp
Director/Screenwriter, Ron Shelton (Bull Durham, Tin Cup, White Men Can't Jump, Cobb, Blaze) in a post-screening discussion stated that he made this film for the over 50 crowd. He probably means even 10 years older but didn't want to limit his audience. Even so, while we fit that demographic we couldn't relate very well to the film. It is supposed to be a feel-good Christmas movie although Christmas is not the main theme.
It would seem that you are supposed to come away from the movie feeling that one should always be having a good time now and in the future. Duke, played by Morgan Freeman, who always is great in any role that he takes on, is the director of a wealthy retirement community in Palm Springs, California. He has lots of women who are certainly good for sex and you get the feeling that a good time is had by all. There is a new "sheriff" in town by the name of Leo, played by Tommy Lee Jones and we're not quite sure exactly why he is in town but he is trouble for Duke. So is Suzie (Rene Russo) who is sent by the hotel owner with a job to do but of course gets caught up with the cast of characters.
There is a plot with some twists and turns and even a surprise or two but frankly we didn't care much although it was mildly pleasant to watch. The supporting casts included familiar faces such as Glenne Headly(sadly in her last performance), Joe Pantoliano, Elizabeth Ashley, Sheryl Lee Ralph and singer Johnny Mathis, who is now in his 80s and plays himself and sings almost as well as ever.
With so many great movies out there today we can't recommend this one, even for a holiday interlude. (2017