April 24th, 2017 — 5:17am
*****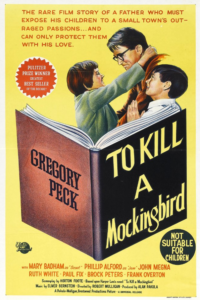 To Kill a Mockingbird – nf
Sometimes when you think about great classic movies which you may have seen years ago, you might wonder if they were really as good as they were supposed to have been. Every once in a while we take such a stroll down memory lane and view one of them. Certainly in this case, we were not disappointed.
The setting of this movie was during the Great Depression in Maycomb, Alabama in the 1930s. This was a time when there was overt prejudice towards black Americans. In fact lynchings were occurring in the Deep South. Remember, also when this film was released in 1962, Martin Luther King was yet to make his "I Have a Dream Speech" and didn't tragically lose his life through assassination until six years later in 1968.
Gregory Peck, in a terrific Oscar-winning performance, plays Atticus Finch, as small town lawyer who is widower and lives with his eight and six-year-old children. He is asked by the local judge to defend Tom Robinson (Brock Peters), a black man who is unjustly accused of raping and beating a white woman. The courtroom scenes are riveting.
Of course, great credit goes to the original author, Harper Lee, who wrote the book and Horton Foote, who wrote the screenplay. We also appreciate the accomplishment of the director, Robert Mulligan, especially because the audience sees much of the meaning of this film through the eyes of Finch's two children, six-year-old Scout (Mary Badham) and 8-year-old Jem (Phillip Alford). Their identification with the morality and sense of justice of their father is what we hope and believe comes through to succeeding generations. The supporting cast is excellent and includes Robert Duvall who plays a young man with developmental problems who reflects an additional theme of the movie. It shows how people react to someone who is "different," with fear and the need to distance themselves. This subplot in the story is another indication of the need to put ourselves in "someone else's shoes," in to order to try to understand that person.
The film which is 129 minutes, is in black and white and will hold your attention as well as being an unforgettable piece of cinematic history. It is also a reminder of how people are capable of prejudice and hateful discrimination. (1962)