January 16th, 2018 — 5:11am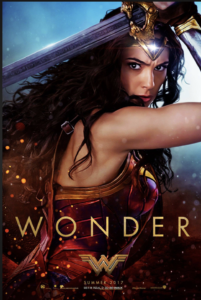 ****
Wonder Woman – rm
You take a $149 million budget (which thus far has earned six times that amount), pull together a cast and crew with behind the screens technicians probably totaling at least a thousand people (based on the credits), put it together in at least four different countries (USA, Italy, Hungary and New Zealand) and build a story around a character who has been a heroine to at least three generations of girls and you get magnificent Wonder Woman! (Gal Gadot) She, of course, can leap buildings in a single bound (like Superman did), can stop bullets with her wristband or even catch them, has super strength and of course she has a magic lasso which will make anyone tell the truth.
We meet our heroine as a young girl as she is training to be an Amazon (all powerful women) on a secret island. It is during World War I and a British pilot (Chris Pine) on a spy mission is being chased by a flotilla of German boats with lots of German soldiers. He crashes into the water and is saved by our heroine who fights off the pursuing Germans until the other Amazon women come to help and wipe them all out. But our spy knows that the Germans have a new secret weapon that involves a deadly gas and he must, get the news back to the Allies. They're in a tremendous battle, a confrontation with the evil of all evil men and many other things that you can imagine.
But the real heroes and heroines of this film have to be the behind the scenes technicians who produced the tremendous special effects that are throughout just about every scene with appropriate sound effects and music. This is all under the direction of Patty Jenkins with a screenplay and story by Zack Snyder and Allan Heinberg. There was an excellent supporting cast including Robin Wright, Connie Nielsen, Danny Huston, David Thewlis and many others.
We understand that most women viewers have been quite touched and even tearful at the end of this film and the female member of our duo was also moved. We don't know if many guys felt that way and it could be a whole new discussion figuring out what this film is tapping into. But all should agree that we are seeing a classic and there will probably be a sequel (2017).