March 2nd, 2018 — 9:40pm
*****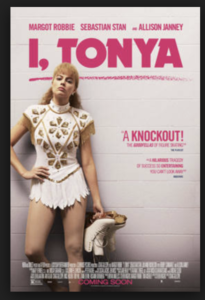 I, Tonya
This is a fascinating well-done but very sad movie. If you were on the planet in 1994 and vaguely aware of current events, you would have some idea of who Tonya Harding is and how she is linked to another ice skater by the name of Nancy Kerrigan. The story, which unfolds in this movie, presents an in-depth understanding of the character and the development of Ms. Harding from childhood to the present. Tonya is played by Margot Robbie. There are some younger versions of Ms. Harding also shown as well as some footage of what must have been the real Ms. Harding doing her jumps and twists. A key player in this movie is the "mother from hell" magnificently portrayed by Allison Janney who is up for an Oscar for her performance. While it is possible to generate a touch of sympathy for this horrific mother, we wouldn't wish her on anyone. But we have to grant that her unflinching determination with no sympathy for her daughter's feelings is what made Tonya a magnificent skater who was the first to land a triple axle jump in American Figure Skating competition.
There is also Jeff Gillooly (Stan Sebastian) who is Tonya's boyfriend, then husband and then ex-husband. He is depicted as a violent lover of Tonya who ultimately wanted to scare Tonya's Olympic opponent but supposedly didn't really want to hurt her. There is also Shawn (Paul Walter Hauser) the "brains" behind the plan to do damage to Ms. Kerrigan" but really is depicted as not very bright. This film also raises the underlying question of what was the role of Tonya in the terrible deed. Perhaps as it was shown, she didn't know about the plan but alas she didn't say anything about it when she found out after it had occurred. In any case, Tonya was the big loser in court and essentially in life. She lost her skating career.
While we can't say if the script got it exactly right, but in this movie we certainly come to understand Tonya and what made her Tonya. We also have insight to how the "big incident" may have gone down and would say a pretty good feeling for the struggle that people go through when they try to become the best in a sport from no matter where they may start.
Director Craig Gillespie and writer Steven Rogers and screenwriter Steven Rogers deserve the credit of putting together a complicated and intriguing story that still is as fascinating as it was when the real event took place more than 20 years ago. (2018)