August 27th, 2020 — 4:27am
MOVIE REVIEW
***
The Guernsey Literary and Potato Peel Pie Society (Netflix)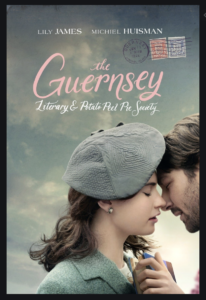 Guernsey is a small island, which is part of the Channel Islands off the coast of England. It was the only British territory that the Germans invaded and occupied during World War II.
This movie is directed by Mike Newell and written by Don Roos and Tom Bezucha based on a novel by Mary Ann Shaffer and Annie Barrows. It stars Lily James, Michiel Huisman, Glen Powell, Jessica Findlay, Katherine Parkinson, Tom Courtenay, Matthew Goode, and Penelope Wilton.
The film takes place in post war World War II in 1946. Juliet who is an author receives a letter from a Guerney man who is interested in a book that she has written. They begin to correspond and she learns that there is a book discussion group on Guernsey called the "Guernsey Literary and Potato Peel Pie Society." She decides that she would like to learn more about this group who write about it. Her boyfriend accompanies her to the dock, where she will take the ferry to Guernsey and he proposes to her at that time. She goes on her mission and surprisingly Juliet becomes involved in the "Society," particularly interested in the fate of one of the founding members, Elizabeth, who left the island during the war. There is intrigue, romance, and an insight into the German occupation of the island during World War II.
While our own book discussion groups or even our film discussion groups do not have the danger and intrigue found in the story, it does give us a chance to experience a well done book and movie (2020).