April 30th, 2022 — 5:40am
C'mon C'mon ( Amazon)
***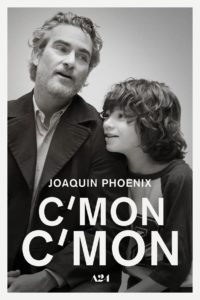 Joaquin Phoenix plays Johnny, a radio journalist who travels around the country asking kids about their views of the world and future. The kids interviewed were not actors and it is interesting to hear the variety of children's views about life.
Things happen, and Johnny ends up taking care of his nephew Jesse who is played by 11-year-old British child actor Woody Norman. Johnny's mother (Gabby Hoffmann) had to travel to another city to care for her husband who has some emotional problems, so now Johnny has a partner as he travels around the country interviewing kids. They travel from Los Angeles to New York to New Orleans. The story is the brainchild of Mike Mills who wrote the screenplay and apparently worked closely with the uncle-nephew duo directing the filming as they travel around. The movie was made in black and white, which perhaps makes it seem like a newsreel of real life. We got two take-aways from the film. On one hand, it is an optimistic view of the world through the eyes of young people. It is also an examination of meaningful family relationships even when there are conflicts and difficult circumstances in early life. The brother and sister show a caring and a trust between them even if it might not have always been that way. Also, we see the uncle and nephew develop a deep-rooted caring for each other although it takes a while for it to happen on this very unique road trip.
The film is sweet and charming, even as it depicts the difficult challenges of everyday life. It is clear how hard it is to be a parent, as well as how many obstacles there are for kids to overcome. The characters, while unique, draw you in to the universality of the need for understanding and connection and the rewards of experiencing transformation.