August 29th, 2018 — 4:26am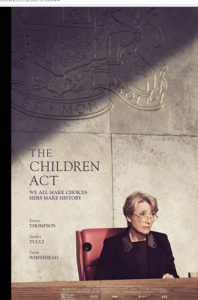 ****
The Children Act-sp
This is one of those films in which everything seems so well done from the story line, the mood background music and the outstanding acting. It is based on a novel by Ian McEwan, who also wrote the screenplay, with direction by veteran director Richard Eyre.
The setting is in London and the main character Fiona Maye (Emma Thompson) is a judge in the British Judicial System. When she is working, she wears the traditional judicial garb and she is referred to as "My Lady." She is very dedicated to her work and appears to frequently handle sensitive ethical issues. Her childless marriage to her husband Jack (Stanley Tucci) is not going well as he tells her that he is planning an affair.
The film then focuses on one very delicate legal case that Judge Maye must opine upon which deals with a 17-year-old boy with leukemia who needs a blood transfusion to save his life. He and his parents are devoted Jehovah's Witnesses where blood transfusions are forbidden and the patient and the parents are refusing that he should have one. "My Lady", the Honorable Judge becomes ultra involved with his case as she feels she must visit him in the hospital and try to understand him.
The success of the film is not only the interesting storyline, but it is the very sensitive and well done performance by Thompson who emanates her pain and turmoil as she changes the life of the boy (who is played by newcomer Fionn Whitehead). There may not be any ultimate satisfaction at the end but you come away feeling you have been through the painful experience that the characters on the screen have been going through, and the questions raised will stay with you long after the film ends. (2018)