December 6th, 2017 — 7:18am
*****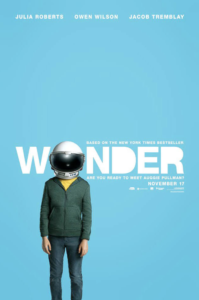 Wonder-rm
It might not be too difficult to remember your feelings or your children's anxiety at the time of the first day of school. In this case it is magnified exponentially as we see the situation through the eyes of a young boy who has facial deformities since birth. In addition he has been home schooled by his mother (Julia Roberts) until he is now starting fifth grade. This movie is based on a bestselling novel by R.J. Palacio, which has been extremely popular with both parents and children.( See Book review – Age 10 in 2014) In fact after Ms. Roberts read this story to her children and heard that the movie was being made, she wanted to play the mother.
The storyline follows the experience of this young boy Augie Pullman (Jacob Tremblay), as he encounters his new classmates. We also appreciate the complicated reactions of other kids both boys and girls in this New York City Prep School. In addition, we gain insight into his oldest sister (Isabella Vidovic), who has been growing up with a brother she loves, but yet whose circumstances have indelibly shaped her relationship with her parents (Julia Roberts and Owen Wilson). We see how not only does Augie and his family have to deal with the challenges of the boy's life circumstances but so do his teachers, the school principal (Mandy Potankin), classmates and some of their parents.
Accolades have to be given to Jacob Tremblay, the star of this movie who was ten years old when the film was made. In his young career he has been in several well-received movies including The Room for which he received critical acclaim. Director Stephen Chbowsky also deserves recognition not only because that should be the case whenever a young child actor stands out but also because he co-wrote the screenplay and directed a very complicated emotional story.
We both felt  that we were not only experiencing a very well done movie that was examining children and adults' complex understanding in responses to one of the sad and unusual variations of the human condition but we also were deeply and visceral touched and brought to tears by how the story was played out on the screen. (2017)