December 22nd, 2016 — 7:13am
***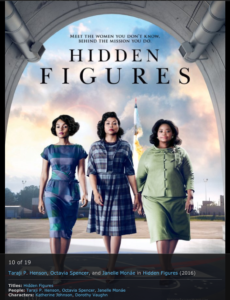 Hidden Figures-sp
Prior to John Glenn's historic flight circling the earth as the first person in orbit, something went wrong in the planning which required new landing coordinates to be calculated. Glenn asked NASA control to "have the girl check the numbers." He was referring to Katherine Johnson (Taraji Henson) in this fascinating movie about the little known story of the role that black women played in the space program.
The setting was the early 1960s. There were still "for colored only" bathrooms in the NASA Government facility in Virginia. A group of bright, black women mathematicians were working in a segregated office doing work, supporting the program. Another one of these women was Dorothy Vaughn (Octavia Spencer) who was initially a supervisor in name only and deserved to be officially promoted to that position. Another black woman in this story was Mary Jackson (Janelle Monae) who despite being a recognized mathematician in the space program had to fight to be able to take some courses to qualify in order to get an advanced degree. At the end of the film, we learned that she ultimately became one of the top engineers in the NASA program. We also learned that Katherine Johnson at the age of 96 recently received the presidential medal of freedom for all her groundbreaking work at NASA.
So much credit deserves to go to Allison Schroeder and Theodore Melfi co-produces, who became aware of this story due to a book by Margot Lee Shetterly of the unknown situation where black women were excluded from positions which they deserved to hold in the NASA program. Fox Studios ultimately took on the movie and Theodore Melfi directed his vision of the story which was quite on target.
The cast was magnificent. In addition to the three women mentioned above, special credit should be given to Kevin Costner who played Harrison, the guy who ran the space program and headed up all the stuff at NASA that made things fly. We recall a cigar chomping Jim Webb who most probably this character was based on. There were also excellent performances by Kirsten Dunst, Aldis Hodge, Mahershala Ali, and Jim Parsons.
This movie should be seen by everyone in order to understand this piece of American history that has been overlooked for years. Although this was not, in and of itself a great film, the stellar performances and important story it tells are not to be missed.(2016)