July 26th, 2017 — 5:33am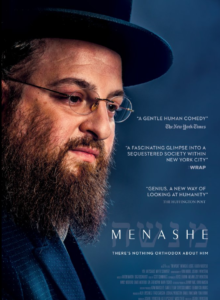 ***
Menashe-sp
It is not very often that we see a film all about the Hassidic community and completely in Yiddish (with subtitles of course).
Documentary filmmaker Joshua Z. Weinstein jumped into this project with all four hats (or should we say Yamakas) as director/writer/producer and cinematographer. He was able to connect with Hassidic Jews who spoke Yiddish and were interested in acting in this movie. This is a story of Menashe (Menashe Lustig) who is a recent widower and wants to continue taking care of his 10 or 11-year-old son, Rieven (Ruben Niborski) despite the Rabbi's (Meyer Schwartz) view that the brother-in-law (Yoel Weisshaus) and his wife would be better caretakers. Menashe is also resisting the pressure that he should make an arrangement with the matchmaker and get a new wife.
On one hand, this could be a universal theme that might be set in other cultures but it is a unique accomplishment to pull it off in the ultraorthodox Hassidic community. The real Menashe (the actor) was quite genuine as the on screen Menashe. The child actor was superb equaling his father with facial expressions, which conveyed the complicated feelings that they were portraying.
While this movie was ultimately picked up by A-24 for distribution, it was made with a low budget. However, the story came across as quite authentic and was able to use the streets of Brooklyn and a sufficient number of appropriate extras to convey a genuine realistic atmosphere. This was a special accomplishment since the director/writer was not fluent in Yiddish and this project required numerous translators to assist in all aspects of it.
When a project such as this one is so successful in bringing a unique cultural environment to the screen, it makes us want to see an even more complicated in-depth story than what was delivered. Also missing were depictions of the positive values with mutual support of this group of people especially at times of holidays and the Sabbath. Nevertheless, we believe that many viewers will find this a worthwhile cinematic experience. (2017)