June 28th, 2017 — 3:44am
***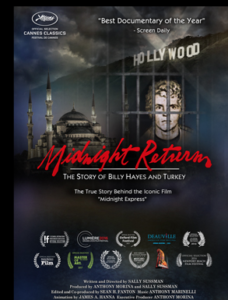 Midnight Return-sp
Billy Hayes was a 23 year old student when he was caught trying smuggle four pounds of hashish , strapped to his body out of Turkey in 1970. He was originally sentenced to four years in a Turkish prison but then the sentence was change to a life sentence. During the course of his imprisonment he was transferred for a while to psychiatric hospital and then to another Turkish prison. In 1975 after 5 years in prison he miraculously escaped to freedom via a row boat to a nearby town and then found his way to the Greece border with money his father had clandestinely given him during a prison visit and he ultimately made it back home to the United States.
Once back in the U.S. he wrote a book on his experience, titled Midnight Express which in 1978 was made into a wildly successful movie starring Brad Davis, directed by Alan Parker, with an award winning screenplay by Oliver Stone which essentially launched the now famous movie director's career. The unanticipated impact of this movie was to portray all Turks as bad and to basically to paint a world wide negative image of Turkey which impacted its reputation and hurt it economically especially in regards to tourism.
Sally Sussman, a successful writer who was Head Writer of the daytime television programs, Days of Our Lives and The Young and the Restless, became interested in the story behind the movie and found a way to meet with the various moviemakers of this film and Billy Hayes himself. She put together the team that raised the capital to make this documentary film Midnight Return and interviewed Hayes, his family, Stone, Parker as well as others who were crucial in making the film. She examined the impact of the film, how certain issues were exaggerated, gives an insight into how Turkish Americans reacted to it and most interestingly through old footage and many interviews traces the life of Billy Hayes for about the 40 years since he escaped from Turkey.
We can imagine that those who have seen the original 1978 Midnight Express and were impacted by it when it came out, will find this follow up to be especially fascinating. We did feel that this 99 minute documentary felt somewhat drawn out. It did not give us the in depth look at Mr. Hayes that we would have liked. While he did develop somewhat of an acting career later in his life and actually recently visited Turkey, it does appear that he remained single and this early trauma of his youth still dominates his life. (2017)