December 20th, 2017 — 4:27am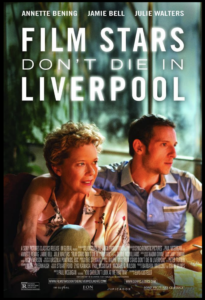 **
Film Stars Don't Die in Liverpool
This film is an example of really great acting by the two leads who both captured the personality of their interesting characters, but in our opinion the movie experience fell flat and did not hold our interest.
The movie is based on a true story about a well-known movie actress, Gloria Grahame, who won an Oscar for best supporting actress in 1947. She had four marriages and four children from three of her husbands. She apparently was very "young at heart" as her husbands' tended to be on the younger side and one of them was a stepson of an ex-husband.
This movie was about Grahame's last relationship, which was with a young actor, Peter Turner, who wrote the book upon which the screenplay by Matt Greenhalgh was based. Turner was played by Jamie Bell and Gloria Grahame was played by Annette Bening. The story encompasses the time of their relationship with flashbacks to when they met and we follow her in failing health, which we are introduced to as the film opens. (You need not be concerned, as the heroine does not die in Liverpool.) Director Paul McGuigan used period music to establish various moods of the film. Bening showed the appeal, which made us understand why the younger man was drawn to her. A supporting cast of Julie Walters, Kenneth Cranham, Stephen Graham, Frances Barber, and even a brief stint by Vanessa Redgrave where as they were excellent as they should be.
The premise of the film held interesting promise. It provided some understanding of the feelings and chemistry of both characters. But in the end, we found the movie lacking and we were not sufficiently touched or moved to urge our readers to put it on your list of films to see. (2017)