March 27th, 2019 — 4:37am
*****
Storm Boy-sp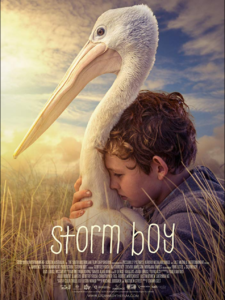 This is an Australian film directed by Shawn Seet based on a screenplay by Justin Monjo which is based on a novella by Colin Thiele. It is a well-known legendary Australian story about a young boy (Finn Little) and his connection to pelicans. His mother and sister had died and he lives with his father (Jai Courtney) in a house on the beach in a deserted area of his country. The boy rescues three baby pelicans after their mother was killed by bird hunters. The little birds grow into big pelicans and stay connected with the young boy, particularly one pelican named Mr. P.
The story is told by the grown boy, now a grandfather, (Geoffrey Rush), as he talks with his granddaughter (Morgana Davies) about his youth. There is also an indigenous man (Trevor Jamieson) who lives nearby and lends support to the father and son. The storyline has a sense of urgency, as there is a conflict over land use of a trust on whose Board the grandfather sits. There is also a dramatic rescue episode, which has significance in our young hero's future life.
The story is magical, captivating, emotional and has all the elements which make it a very worthwhile cinematic experience. (2019)
As usual, your comments about this film are welcome below.