December 8th, 2016 — 5:14am
****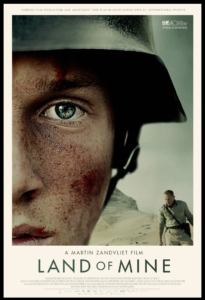 Land Of Mine
We just had the opportunity to see Denmark's entry for the Academy Award for best foreign film this year and we met the writer/director, Martin Zandvliet and one of the producers, Mikael Rieks. This is a very well-done movie, but what stands out about the film is learning a previously little-known aspect concerning World War II and the unique ethical dilemma which the film spotlights.
Towards the end of World War II, the Germans anticipated an Allied invasion of their occupation of Europe and thought it would likely occur on the shores of Denmark which would give the Allies the shortest distance to Berlin. The Germans planted hundreds of thousands of explosive mines on the beaches of Denmark. Of course, instead, the Allies successfully invaded at Normandy. Once the war was over, the Danes were faced with a dilemma of how to go about the dangerous task of removing these deadly explosive mines. They chose to use thousands of German prisoners of war, many of whom were young teenage soldiers who had beenconscripted into the German army towards the end of the war in a desperate attempt to fight off the Allies.
So now the Danes were forcing these mostly young prisoners of war to learn how to do the dangerous task of defusing the enormous number of mines on the coastline. You also may want to consider if there is  a valid question whether such forced life-threatening labor is against the treaties signed at the Geneva Convention.
So if this movie accomplished nothing else but to highlight this fascinating ethical dilemma, it would deserve to be seen. However, the production did this in a very personal and dramatic fashion. Most of the movie focused on a group of about a dozen German prisoners of war, most of whom appear to be young teenagers, perhaps as young as 15 or 16 who are under the command of a Danish soldier Sergeant Rasmussen (Roland Moller). Most viewers who appreciate the inhumane treatment to millions of people by the Nazi invaders of course might understand the initial harsh treatment by the sergeant of his captors as he trained and forced them to undertake the mine-clearing task.
However, the added dimension of this drama being played out on the screen was the viewers' empathy for these young prisoners of war who shared dreams and aspirations of returning home to their families. Not surprising, the Danish sergeant himself, begins to understand his young prisoners and even care about them.
So our emotions are stirred up as we appreciate a great conflict and we can identify with the characters on the screen. There is drama, tension, and excellent photography by Camilla Hjelm Knudsen who is the wife of the director/screenwriter. We come away with a little more insight into history and human nature which adds up to a very good film. (2016)