November 22nd, 2021 — 10:09pm
Passing – nf
****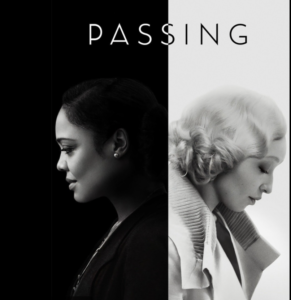 This is a complicated subtle film which deals with a very sensitive subject.
We meet two women who are apparently old friends but have not seen each other in a long time and come upon each other in a chance meeting. They are both light-skinned black women who have gone on different paths since they were friends in the past. Irene (Tessa Thompson) identifies as being black and is married to a black physician(Andre Holland). They have two sons and live in an upper-class lifestyle in Harlem in Manhattan. Clare (Ruth Negga) on the other hand, while similarly light skinned has identified as white and is married to a white man (John Skarsgard) who not only does not know about her true black identity but is openly bigoted against anyone black. By the appearance of the cars shown, the time period is the 1930s.
Unbeknownst to her husband, Clare attends some social gatherings with Irene and her husband, where she can identify as being black. There is a suggestion of an attraction or perhaps an affair between Clare and Irene's husband as well as a hint of a sexual attraction between the two women. Things culminate where both couples attend another social gathering and things come to a fatal ending.
The film, based on a novel of the same name operates on multiple levels of the theme of "passing". The main depiction is shown in the term used for a black person who is "passing" as a white one. It is also noted in the possibility of a gay man "passing" as straight. We see, also, a fraught relationship "passing" as a strong one. As one of the characters, thoughtfully states, "things are not always what they seem."
It is interesting that Director Rebecca Hall is a white woman with a Black Grandfather who passed as white or Native American and this may have been part of her motivation to deal with this sensitive, contemporary and important subject.
The film is well worth seeing.