February 1st, 2021 — 10:29pm
One Night in Miami (Amazon)
****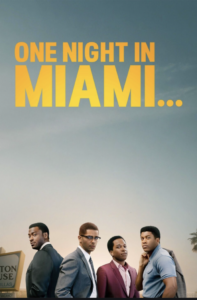 This imaginative story of the fictional meeting of four black icons caught us by surprise. The film is supposed to have taken place in 1964 when we were in our 20s and while very much aware of the civil rights movement but we were not intimately cognizant of the role that each of these well-known persons were playing at that time.
Cassius Clay (Eli Goree), the great heavy weight boxer, had just become the world heavy weight champion by knocking out Sonny Liston. He was probably the youngest man in the foursome and was about to become a follower of the Nation of Islam and become a follower of its leader Malcolm X (Kingsley Ben-Adir). However, Malcolm X was about part ways with this organization and make a pilgrimage to Mecca. Jim Brown (Adis Hodge) was a great football player who seemed to be the least developed character in this film. We most enjoyed the character of Sam Cooke (Leslie Odom, Jr.). We had a fond memory of his feel good music and the change that was developing and black awareness in this character as well as in the entire country was reflected in his interchanges with Malcolm X.
The film was directed by Regina King with the screenplay by Kemp Powers based on his book.
The movie ends with a note that Malcolm X would be assassinated shortly after this story was to have taken place reminding us that this was just beginning of the ongoing Civil Rights and Black Lives Matter movement. It is rare that such a totally imaginative interchange between relative contemporary figures can capture the essence of their historical significance. It is also painful to know that over fifty years later, the fight for equality and justice needs to continue to be waged. (2020).