August 8th, 2014 — 10:31pm
***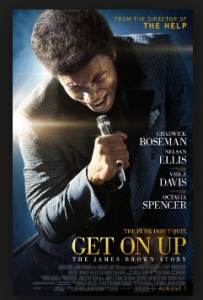 Get On Up –rm This is the story of a young boy from rural Georgia who was abandoned by his parents, raised by madam from a brothel, fascinated by the gospel music in the local church and ultimately became the godfather of soul music. It is about a young man who spent time in jail, who essentially only had himself to rely on and yet always had tremendous belief in himself to the point of being self-centered, egotistical or narcissistic if you will. But in this case, he had the goods. He became a music legend he of course is James Brown.
The film is the brain child of Brian Glazer who is a well known movie and television producer who combined his talent with the skills of another music legend Mick Jagger, who has acknowledged being a great fan and being influenced himself by Brown. Jagger brought his music skills to the film as producer and music director. There are at least two more essential ingredients to this biopic and that would be director Tate Taylor (The Help) and Chadwick Boseman who previously starred as Jackie Robinson in 42.and now becomes James Brown. He does this by his speaking voice, mannerisms and learning the distinctive choreography of Brown's movements during song and everyday life. This includes his swagger as well as his splits and the special way he whipped a microphone around. There also was some very skillful lip-synching accomplished by Boseman and the actors who played his band and backup singers since the great singing in this movie was the original voice of James Brown.
In addition to Boseman there was some great acting that needs to be acknowledged. Lennie James play Brown's tough and angry father while Viola Davis was the woman inside the mother of Brown who loved him. yet abandoned and rejected him but still tried to come back when he was a success. Octavia Spencer was the madam in the brothel who took him in and more or less had the heart of gold. Dan Aykroyd was Ben Bart the white Jewish agent who became very close to Brown throughout much of his career and was called papa by him. Neisan Ellis was Bobby Byrd one the most loyal members of the original Flames which was Brown's first groupbefore Brown became a phenomenon by himself. Brown's complicated relationship with Byrd reflects his self-image of seeing himself as something very special but yet having a lingering need for close friendship that he may never have found.
On one hand the film used flashbacks to effectively show the genesis of Brown's unique character but yet they seemed to abruptly pull us away from the engrossing music and the story of how Brown was rising to the top, dealing with racial issues including the country's response to the death of Martin Luther King as well as how Brown faltered in his personal life. There were many backup players moving in an out of Brown entourage as well as various women and children We could not always be sure who they were in his life which might be defect in the film. In addition, we and at least one other person agreed that the conversations of Brown and some others were not always understandable which could be the dialect, or an audio problem but would seem to be a flaw. The running time of the film was 2 hours and 18 minutes and while we can't say what should have been cut, it probably could have been shorter. However,we have no complaints in re-experiencing the great music and moves of the incomparable James Brown.(2014)