April 17th, 2019 — 1:00am
**
The Mustang-rm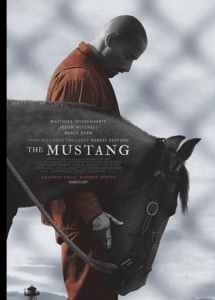 There is a program in a western U.S. maximum-security prison where inmates can learn how to train a wild mustang horse. If they succeed the horse can be sold at auction. Horses that can't be tamed are often euthanized.
We meet Roman Coleman (Matthias Schoenaerts) a somewhat taciturn violent prisoner who becomes involved in this program. There are interesting well-photographed scenes where we see the trials and tribulations of men working with their horses. There are short but well-done supporting roles by Connie Britton a prison psychologist and Bruce Dern who plays the old guy who tells the prisoners how to train their horses.
Unfortunately, we learn very little about the previous background of the main protagonist as we are just given fleeting glimpses of what happened to him and his relationship with his adult daughter (Gideon Adlon) who visits him periodically in the prison. We learn essentially nothing about the other prisoners who are participating in the program and must have stories to tell.
Seeing a wild horse show some recognition to the human trying to train him is a touching emotional experience but is not enough to carry this film and make it worthwhile. We feel that the storyline failed and therefore the movie failed, however, well directed by Laure de Clermont-Tonnerre. Even though there were some great scenes of horses running wild or even cozying up to their trainer, we just cannot recommend this movie. (2019)
Any comments are welcome in the section below