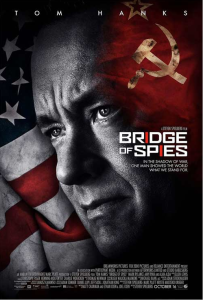 ***
Bridge of Spies -rm

With Steven Spielberg directing, Tom Hanks staring, the Coen brothers being part of the writing team in this story of the spies in the cold war, this movie would seem to be bound for success. If you were around in the 1950's, the story of Colonel Rudolf Abel, the Russian spy caught spying in  Brooklyn and Francis Gary Powers, the American pilot shot down taking pictures over Russia should be quite familiar to you. That may take some of the suspense away from you as you know how the movie is going to end. On the other hand, if you were close to the millennial generation, the film might generate enough tension to put you on the edge of your seat.
The film did show very interesting depictions of two persons who became well known to the American public as the central events unfolded. There is the captured Russian spy, Rudolf Abel (Mark Rylance) who was very devoted to his cause and not really a bad person although clearly hated by most Americans. On the other hand, Francis Gary Powers (Austin Stowell) the American pilot on the secret spy mission taking pictures over Russia is shown as an all American-type handsome guy who is the center of attention because he didn't do the expected, deadly self-destruct thing with the poison pin, before he was captured.
The main protagonist was James Donovan (Tom Hanks). It's hard to say if we like him so much because he was Tom Hanks or was it because he was this idealistic attorney standing up for American principle's of giving everyone a fair trial, even if his client were a despicable man of the times being a Russian spy.
Spielberg appeared to put his $40 million budget to good use as the scenes were all quite realistic. Especially dramatic was the building of the Berlin wall and the views of some attempted escapes from East Berlin and of course there was the bridge where the exchange was to take place. The shoot down of Powers' plane seemed quite realistic (we hope no one was hurt in the escape from the plane – it seemed that good). There was a little too much repetition in this two-hour and fifteen-minute movie with much more talking than action. For those who didn't live through this period, this film may very well become the mental representation of this period although we didn't think it quite captured the fear and apprehension that existed in the country at that time. (2015)
Category: 3 Stars, History | Tags: 2015, Austin Stowell, Bridge of Spies, Coesn Brothers, cold war, Francis Gary Powers, James Donovan, Mark Rylance, Rudolf Abel, Russia, Steven Spielberg, Tom Hanks Comment »