****
American Factory-nf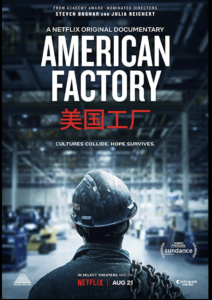 This a documentary, which allows the viewer to be a "fly on the wall" as real life unfolds in factory in Dayton, Ohio.
A wealthy Chinese businessman opens up a new factory, which makes glass for automobiles, in a closed General Motors Auto Factory in Dayton, Ohio. He brings in from China the people who will be the supervisors of the workers, who come from the local community and are thrilled at being able to get back to work, although their minimum wages are below the wages they made from the now closed auto factory.
Everybody is optimistic that this gigantic plant will rejuvenate the local community. The workers try to get used to the Chinese work culture and the Chinese try to understand the American way of thinking. A delegation of American workers is sent to China where they are wined and dined and participate in the celebration of Chinese culture. The film production team led by producers/directors Steve Bognar and Julia Reichert  have obtained very good access to both the Americans and Chinese working in the factory and they are able to film the workers and their supervisors as they discussed their personal feelings. Things come to a head when there is a movement to unionize the workers, which is opposed by the management. The tension between the two sides builds to an ultimate vote whether this unionization should take place.
This movie highlights important political and social differences between contemporary American and Chinese cultures. It is of note that one of the backers of this film is Barack and Michelle Obama's new production company, Higher Ground (2019).
Please leave any comments below
Category: 4 Stars, Documentary, Politics | Tags: 2019, American Factory, auto glass, Barack and Michelle Obama, China, Chinese, Dayton, glass factory, HIgher Ground, Julia Reichert, Ohio, Steve Bognar, unionization Comment »