****
Cake – nf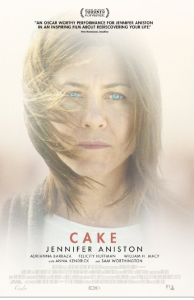 For many years MB was a psychiatric consult to a Burn Center and worked with many patients who had to deal with severe pain. Most of the time, we found a way of controlling the pain through medication, relaxation techniques, hypnosis, guided imagery, and various forms of psychotherapy. However, it was after the patient left the hospital that they had their biggest trial. They were faced with disfiguring injuries, chronic pain, and most of all PTSD with continued grieving around the circumstances of their tragic injury.
We live and breathe this journey through the persona of Claire who is masterfully played by Jennifer Aniston. We initially meet her in a support group for people with chronic pain. We soon learned that her pain is much more than physical hurting. It goes also beyond the physical dependency that her body has for pain killers.
The screenplay by Patrick Tobin slowly unfolds as we gradually learn about a member of Claire's support group who committed suicide (Anna Kendrick) but lives on in Claire's mind. We see Claire slowly and painfully expand her limited circle of relationships. The one constant person in her life is Silvana, her loya; housekeeper (Adriana Barraza).
This is not the kind of role you can just step into. It required much more than this actress allowing her face to be made up as being scarred. Jenifer Aniston had to come to inhabit the heart and soul of her character. She did just that through her own efforts and with the help of the film director Daniel Barnz. She also had an excellent supporting cast which included Sam Worthington, Mamie Gummer, Felicity Huffman, William Macy, Chris Messina, and several others.
We suspect this movie will live on, not only as an excellent piece of cinema but it will be used for discussion in support groups as real people will relate to the character that Ms. Aniston and the film makers have created. (2014)
Category: 4 Stars, Drama | Tags: 2014, addiction, Adriana Barraza, Cake, Chris Messina, Daniel Barnz, Felicity Huffman, Jennifer Aniston, Mamie Gummer, pain, pain killers, Patrick Tobin, physical dependency, Sam Worthington, support groups, William H. Macy Comment »