****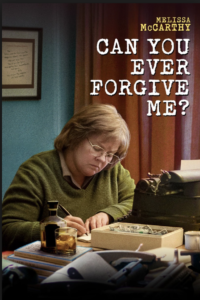 Can You Ever Forgive Me?
When Lee Israel (Melissa McCarthy), a talented writer who profiled famous writers of her time was no longer able to sell her books, she turned to forgery, creating and selling letters in the style of Dorothy Parker, Fanny Brice, Noel Coward and others. She befriended an equally lonely gay man (Richard E. Grant) who for a while helped her with her con artist scheme.
This is a true story based on the memoirs of Ms. Israel with a screenplay by Nicole Holofcener and Jeff Whitty. The film was directed by Marielle Heller. Ms. McCarthy dominates the screen portraying the very sad life of Ms. Israel. Both her performance and that of Mr. Grant deserved the Oscar nominations which they received for their performances.
As the title implies, you will come away from this cinematic performance with a melancholy feeling, but you also will know you have seen an excellent movie. (2019)
Please consider putting any of your comments about the movie or the review just below
Category: 5 Stars, Biography, Crime, Drama | Tags: 2019, Can You Ever Forgive Me, forgery, Jeff Whitty, Lee Israel, Marielle Heller, Melissa McCarthy, Nicole Holofcener, Richard E. Grant Comment »