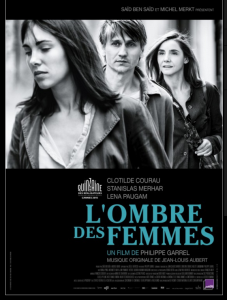 **
In the Shadow of Women-sp
(French with English subtitles)
You probably will not see this movie unless perhaps you are taking a course about French films. We also don't think you are missing anything. It is directed by Philippe Garrel who we were told by two experts in this genre has a following among such afficiandos.
The movie is in black and white as is the story. The theme is infidelity. Pierre (Stanislas Merhar) and Manon (Clotilde Courau) are seemingly a happily married couple, although Pierre really doesn't seem happy about anything. They are filmmakers and are making a documentary in which they are interviewing a supposed hero of the French resistance who is reviewing all his heroic acts during World War II. However, it turns out that he is lying and deceiving the filmmakers. He really turned in all his friends to the Nazis. Pierre is also doing a bit of deceiving as he is having an affair with Elisabeth (Lena Paugam). This would seem to be very unfair to his wife, Manon, as she seems to be very dedicated to the marriage. However, despite this initial impression Manon is having a secret liaison with her lover. When circumstances lead both Pierre and Manon to confess to each other, they both become furious and split up. They meet sometime later at the funeral of the subject of their documentary film and quickly end up passionately in each other's arms.
We obviously have not avoided providing spoilers since we doubt most of our readers will see this movie. As we ponded the meaning or message of the film, we saw very few clues to the background of the characters. We appreciated the echo of deception in the subject of Pierre and Manon's documentary film and the deception in their lives. Was this a morality story? We think not. One of the native French movie experts discussing this film at our screening stated that in France as compared to America "Infidelity is not a moral issue." She agreed however that this doesn't mean that the participants might not have personal emotional responses. We saw a very little of such responses and certainly, as we stated, there was no understanding of the meaning of the infidelity to each of the characters.
The title of the film suggests that there is something more meaningful in infidelity to women than to men. This is an interesting point but certainly was not developed in the movie. We understand that the screenwriters Jean-Claude Carriere, Caroline Deruas and Arlette Langmann have a very fine reputation in France as does the director. Mr. Garrel is a master of black and white and the filming of the streets and the alleys kept a consistent atmosphere and mood of the film. The third party voice-over helped to fill in some of the details of the story. However, one of us felt they should have edited in about a half hour more to the 73 minutes running time in order to develop some insight into the characters. But the other one of us felt the best part of the film was that it was short! (2015)
Category: 2 Stars, Drama, Foreign | Tags: 2015, Arlette Langmann, black and white film, Caroline Deruas, Clotilde Courau, deceipt, French, In The Shadow of Women, infidelity, Jean-Claude Carriere, L'Ombre des Femmes, Lena Paugam, Philippe Garrell, Stanislas Merhar Comment »