****
Leaving Neverland-nf
Four-hour two-part documentary film directed by Dan Reed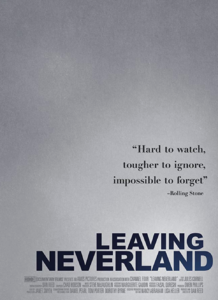 Ten years ago, Michael Jackson, "King of pop", one of the greatest entertainers of all time died at the age of 50 of a combination drug reaction and a fatal heart attack. He had been married twice, once to the daughter of Elvis Presley and had four children. He himself as a child was the youngest member of a musical group known as, The Jackson 5. Michael Jackson endured two criminal trials with allegations that he had committed child abuse and was found not guilty.
This four-hour documentary (divided into two 2-hour segments) focuses on two men probably now in their 30s who described in great detail their relationship with Michael Jackson. As young children, they had won dance contests in the style of their idol. Michael Jackson then befriended them both and their families, at different times. He brought them to his palacial home in Los Angeles known as Neverland. The boys were ages 7 and 10, when they met Jackson.
This documentary film focuses mainly on these men with camera close-ups during most of their speaking. They recounted their childhood and their relationship with Jackson and how he befriended them despite their wide age disparity, along with their families. There were also interviews with family members including the boy's mothers, siblings and the film also had various film clips. There was a haunting musical score in the background throughout the film.
Both men clearly and unequivocally described how Jackson became their close friend and their buddy, but also frequently would sleep in his bed with them in his Neverland estate. Jackson made them feel he loved them and they loved him. This continued with various intervals between the ages of seven until they were in their mid-teenagers and even then, they kept up a relationship. The young men also described how Jackson sexually molested them from their earliest relationship which included touching, kissing, masturbation, as well as oral and anal sex. These encounters occurred while the boy's mothers and other family members who believe Jackson was a great family friend were often in a nearby room. These relationships continued for years and included talking on the phone and traveling to various cities staying in great hotels and frequent dinner together with their families. The story is amazing. It is also heart wrenching as we see as adults both men now married with their own young children now struggling with their awareness of what they have gone through. You can imagine how devastating it became not only for them and for their mothers who realized that they had unwittingly allowed their sons to be subject to the most severe deception and molestation.
Although the film was quite convincing, it should be mentioned that there are still Jackson supporters who dispute the veracity of the accounts of these two men. The story was quite riveting and conveyed so well the joys followed by the pain of the young men and the families of those involved.
The film was well done.Perhaps at times it dragged a little, or was too repetitious. However, the viewer cannot help, but be amazed how these two boys and obviously many others were deceived, seduced, and deprived of their childhood innocence by the actions of a man who himself must have been a very damaged person.(2019)
Category: 4 Stars, Crime, Documentary | Tags: 2019, child molestation, Dan Reed, King of Pop, Leaving Neverland, Michael Jackson, Neverland Comment »