Ma Rainy's Black Bottom (Netflix)
****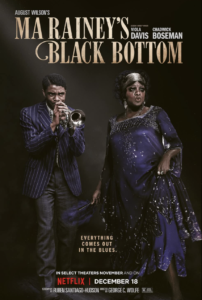 This film is Based on the play of the same name by Pulitzer Prize winning playwright August Wilson. The setting is the 1920s and a Black Jazz Group is preparing for a recording session. The film takes a deep dive into a couple of the characters. The main focus is on Levee, a black trumpet player who wants to play things his way and dreams of forming his own band rather than playing back-up to a great black singer. He is played by Chadwick Boseman in his final performance as he passed away shortly after the filming this movie. His character embodied the frustration of black men, especially talented ones who were held back by prejudices of the time. The other star of this film was Viola Davis who lived within Ma Rainey, a black superstar singer who is going to take everything her talent deserved although she clearly had to stand up and make her righteous demands. The storyline, great acting by the entire cast, directed by George C. Wolfe, provided a wonderful insight into the oppression and prejudices which emerged in this time period. The senior producer for this excellent film was Denzel Washington.
Our biggest disappointment with the film was that it ended when it did. We so much wanted to see a light at the end of the tunnel that we hoped could be there. Instead, we were shown the endless frustration and pain that has been the plight of so many black people. (2020).
Category: 4 Stars, History, Musical | Tags: 2020, Auguest Wilson, Chadwick Boseman, Denzel Washington, George C. Wolfe, Glynn Turman, jazz, Ma Rainy's Black Bottom, Netflix, Viola Davis Comment »