*****
Marriage Story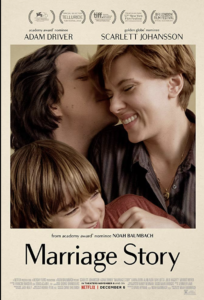 This film is the brainchild of the very talented screenwriter Noah Baumbach who has previously written about family, divorce, and it did frequently seem as some of his greatest pieces have been semiautobiographical. He was director and writer of this movie as he was for the Squid And The Whale, The Meyerowitz Stories, and many other great films. Not surprisingly, his main characters in this movie are a theatre director and playwright Charlie (Adam Driver) and his wife Nicole (Scarlett Johansson) who is an actress currently featured in her husband's latest Off-Broadway play.
The story opens as this couple are each reading a piece about the great qualities of their spouse. We quickly learned that despite all this acclaim and wonderful characteristics that they each described, the purpose of this exercise is part of the mediation process for a pending divorce. Despite a seemingly perfect marriage, which included a young son Henry (Azhy Robertson), the tensions of trying to lead a bicoastal life contributed to Nicole's desire to institute what turns out to be very contentious divorce proceedings. This aspect of the story also allowed for a short exposition of the contrasts between living in New York and living in Los Angeles.
The Baumbach's script highlighted Driver and Johansson's talent in some very intense and dramatic monologues as well as interactive dialogues. Included was an opportunity for Driver to show his talent as a singer in one particular scene. There is definitely Oscar material in the performance of these two stars.
While the movie is a clear vehicle for the great talents of Johansson and Driver, there are also some excellent supporting roles by very familiar people. Laura Dern plays a hard-nosed Los Angeles divorce lawyer. Other divorce attorneys are played by Alan Alda and Ray Liotta. Also in supporting roles are Merritt Wever, Wallace Shawn, and Julie Hagerty, but the main focus is on Driver and Johansson who along with Baumbach have a good shot at being on the awards stage in the near future (2019).
Category: 5 Stars, Drama | Tags: 2019, Adam Driver, Alan Alda, Azhy Robertson, divorce, Julie Hagerty, marriage, Marriage Story, Merritt Wever, Noah Baumbach, Ray Liotta, Scarlett Johansson, Wallace Shawn Comment »