****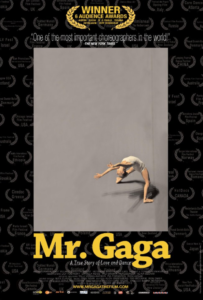 Mr. Gaga- A True Story of Love and Dance -sp

If you are a fan and lover of cutting-edge modern dance, you will be mesmerized by this foreign  documentary film( in English) of the story of Israeli choreographer and dancer, Odar Naharin. His passion and dedication to dance, and his travels from Israel to New York and back to Israel, as well as the development of the special "Gaga" movement that he originated is a fascinating story. In a post-screening discussion, Director Tomer Heymann, who produced the film with his brother, Barak Heymann and Diana Holtzman, shared the several year adventure that he took to make this movie. He told how he tracked down childhood footage of Naharin, along with interviews of some of the icons in modern dance.
A reflection of the uniqueness and originality of Naharin is not only demonstrated in the design and movement of his work, but also in the journey that he has taken during his 64 years. His interest in movement dates back to his youth and also his time in the Israeli army during the Yom Kippur War (a leg injury prevented him from directly being in combat).
Naharin came to New York and studied simultaneously at the Julliard and the American Ballet Theater (an unheard of accomplishment). He was then accepted by Martha Graham into the most prestigious modern dance company in the world. Actual video footage of Graham talking about this young protégé is shown. Despite this tremendous opportunity and the recognition of his skills, he did not feel comfortable continuing to study in the United States and decided he wanted to form his own ballet company in Israel. By that time, he had met his wife-to-be, a beautiful Asian dancer, Mari Kajiwara, with whom he fell in love at first sight and arranged a meeting with her. She was the first non-black dancer accepted into the Alvin Ailey Dance Company. They came to Israel to direct the Batsheva Dance Company.
There are many more trials and tribulations, happy moments and great sadness, some of which are shared with us in this film. At the time of Israel's 50th anniversary, when his dance company was to be one of the featured cultural events, there erupted a controversy about the various simple costumes of Israeli army undergarments that his dancers were to wear.
As riveting as is the unusual storyline about this unusual man, the real attraction of this film is the dance that explodes on the screen. Mixed with some very interesting footage of a young Naharin, most of the movie shows beautifully photographed dancers from all different angles doing the amazing movements that this man has pioneered during his lifetime. The film opens in Los Angeles this week at the Laemmle Monica Theater and at Lincoln Center in New York City. Hopefully, the showing will expand to other theatres so many more people can enjoy this unique story and dance experience. (2017)
Category: 4 Stars, Documentary, Foreign | Tags: 2017, Alvin Alley Dance Company, American Ballet Company, Barak Heymann, Batsheva Dance Company, Diana Hotzman, Israel, Julliard, Mari Kajiwara, Martha Graham, modern dance Gaga movement, Mr.Gaga, Oda Naharin, Tomer Heymann Comment »