****
Mr. Holmes – sp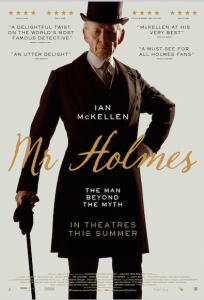 This is a story about an older Sherlock Holmes who has returned to a country house in England where he lives with his housekeeper and her son and raises bees. The story also shows that he has early signs of forgetfulness but still has a brilliant deductive mind. The film uses flashbacks to earliler situations in his life to develop the plot. Following our viewing of the movie, we participated in a discussion with other moviegoers and a well known film critic Stephen Farber, with a special guest, Mitch Cullin, the author of the novel upon which the screenplay was written. It struck us that we talked about Mr. Holmes as if he were a real person. People recalled early stories in his life which not only came from the extensive writings of Arthur Conan Doyle but from other books, movies, and TV programs, all about this fictional character.
There is a situation presented in one flashback to an earlier time when Mr. Holmes supposedly worked on a case confronting a woman who was lying to her husband not because of an affair with another man but because she was obsessed with playing a musical instrument feeling that it would bring her closer to her two babies who had died. This woman was clearly seriously depressed and suicidal. We see Mr. Holmes years later reflecting on this woman and perhaps even pining over what could have been had they developed a romantic relationship. The depression of the woman seemed irrelevant to him. Even the depressed feelings of Mr. Holmes, as he thinks about this past situation, seem artificial. From our limited acquaintance with the extensive writings about this famed fictional detective, it seems that he usually or even always was shown as the man with a brilliant mind where logic always prevails and most of the time human feelings seem to be left out or at least are hidden. There is more sensitivity to others as he figures out that a Japanese man in the story would be better off if Sherlock tells him a lie about what his father supposedly told him. Sherlock, seems to be a grown-up person perhaps with Asperger's syndrome who can figure everything out, but not his own feelings.
If Sherlock defended against his feelings, the emotion certainly came out to the audience watching the movie. We are touched by the interaction that he has with a young boy and we were moved by seeing Sherlock beginning to have awareness of his failing memory.
The direction by Bill Condon based on the screenplay by Jeffrey Hatcher was outstanding. Ian McKellen's performance as Sherlock deserves consideration for an Oscar. Laura Linney was excellent as Mrs. Monroe the housekeeper and child actor, Milo Parker, was an essential component to this movie and did a superb job. "It is elementary, my dear Watson," that you should see this movie. (2015)
Category: 4 Stars, Drama | Tags: 2015, Arthur Conan Doyle, Asperger's Syndrome, Bill Condon, deductive mind, detective, Ian McKellen, Laura Linney, Milo Parker, Mitch Cullin, Mr. Holmes, Sherlock Holmes, Stephen Farber 2 comments »