***
Once Upon a Time in Hollywood-rm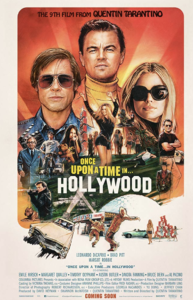 We think it is fair to say that Quentin Tarantino, the writer and director of this film, likes to do things his way and that he certainly does that in this film.
We meet the main characters, Rick Dalton (Leonardo DiCaprio), a fading TV and movie star, and Cliff Booth (Brad Pitt), who is Dalton's stunt double, long-time friend and employee. Early in the story, Dalton's agent (Al Pacino) suggests that his career is going downhill and he may have to resort in playing Italian movies. It happens that Rick has a lovely place in Hollywood Hills next door to movie star, Sharon Tate (Margot Robbie), and her husband Roman Polansky. Do those names sound familiar?
The setting, in addition to being in Hollywood, is taking place in1969. If you are an auto enthusiast, you will recognize many of the cars of that era. You will also get an inside glimpse of the movie sets of that time and how actors would rehearse their lines.
Tarantino, in addition through telling us a story his way, is showing us behind-the-scenes movie world where we can watch a classic Western movie being prepared. We even have a chance to meet Bruce Lee (Michael Moh) who has an interesting battle with the Brad Pitt character. There are other familiar supporting actors throughout the films such as Timothy Olyphant, Dakota Fanning, Bruce Dern, Luke Perry, Lena Dunham, and Damian Lewis). In fact, the acting, writing and directing, as expected, is very imaginative. The main problem with the film is that it took three hours for Tarantino to show us his fantasy of the movie world nearly 50 years ago. (2019)
Category: 3 Stars, Drama | Tags: 2019, Al Pacino, Brad Pitt, Bruce Dern, Dakota Fanning, Damian Lewis, Lena Dunham, Leonardo DiCaprio, Luke Perry, Margot Robbie, Once Upon A Time in Hollywood, Quentin Tarantino, Roamn Polansky, Sharon Tate, Timothy Olyphant Comment »