Rising Phoenix – (Netflix)
*****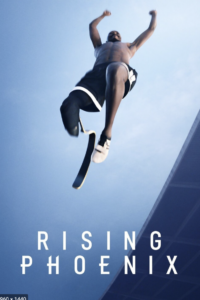 This is a truly amazing documentary film about a group of remarkable athletes who have participated in the Paralympic Games. In it we meet athletes some without legs or arms and some without both. We get a chance to learn about their personal stories. Some were born without limbs or suffered the loss as children. We see how each person faced his or handicap with the support of parents, sometimes adopted parents, their coaches and eventually with the support of a stadium filled with screaming fans. This was a beautifully done documentary which grips both the viewer's mind and heart.
This Netflix documentary film was directed by Ian Bonhote and Peter Ettedgui. Included among the featured athletes was Tatyana McFadden who spent the first six years of her life in a Russian orphanage with not even a wheelchair. She was paralyzed from the waist down and with no other way to move. She learned to walk with her hands to keep up with other children. Subsequently, competing in a wheelchair, she has won 17 Paralympic medals in multiple Summer Paralympic Games. There was Jonnie Peacock who at the age of 5 contracted meningitis resulting in the disease killing tissues in his right leg, which was then amputated just below the knee. He eventually received a prosthetic leg and won gold medals at the 2012 and 2016 Summer Paralympic Games representing Great Britain. There was also Bebe Maria Vio who at the age of 11 contracted a severe form of meningitis, which caused her the loss of both arms and legs and severe facial and body scars. After months of intense rehab treatment and thanks to a special prosthesis, she could return to the love of her life, which was fencing, a discipline that she had been practicing since she was five years old. She won a gold medal at the 2016 Paralympic Games.These athletes and others narrated much of this film, which also included a narration by Prince Harry of Great Britain, which added authenticity as well as his warmth.
The film also takes us into the history of the Paralympic Games and how they have come to occur in the same year as the regular Olympic Games and in the same city with one exception. In 1980, we learned that when a Soviet official was asked whether or not the Paralympic Games would occur in his country, he said "There are no invalids in the USSR." That attitude has changed considerably in modern times as athletes from that country have actively participated in the Paralympics.
The authors particularly appreciated this film since it happens that during the summer after we were married, we were camp counselors at Camp Oakhurst, a camp for orthopedically handicapped youngsters and young adults and we came to appreciate how the love of sports can transcend physical handicaps. We also over the years have had the opportunity to attend five summer Olympic Games throughout the world, although none were the Paralympic Games, which we now are inspired to consider visiting in the future.
Category: 5 Stars, Documentary, Sport | Tags: Bebe Maria Vio, Camp Oakhurst, Ian Bonhote, Jonnie Peacock, Netflix, Paralymic Games, Pater Ettedgui, Prince Harry, Rising Phoenix, Tatyana McFadden Comment »