February 3rd, 2016 — 2:55am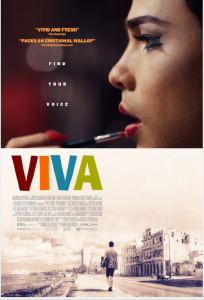 ****
Viva-sp
(Spanish with English Subtitles)
Havana is one of the most interesting and exciting cities in which to set a movie. This is particularly so when the beat and the rhythm of Cuban music is an important part of the film. But this is not a typical musical, drama or love story. The story uses the backdrop of a subculture of gay young men, female impersonators and prostitution to tell a poignant tale of a relationship between a father and a son who reunite after years apart.
This movie is the brainchild of Irish director, Paddy Breathnach who, after a visit to Cuba, visualized how this project might work and teamed up with screenwriter, Mark O'Halloran, to bring it to fruition. This mostly Irish production team then went on to put together a wonderful cast of Cuban actors and filmed this moving story in Cuba. The fact that they received the blessing of the Cuban government shows how things have come a long way in the Pearl of the Antilles
Hector Medina plays Jesus, a young gay Cuban man, who lives in severe poverty. He begins performing at a nightclub of female impersonators. Angel (played by veteran Cuban actor Jorge Perugorria), his long-lost father recently released from jail, has found him and moved in with him in an attempt to control his life. There is a recurrent theme of people trying to find some kind of family relationships. Not only is this perceived in the relationship between Jesus and Angel, but also in the character of Mama (Luis Alberto Garcia) who exudes the strength of his character by his relationship with the female impersonators who worked for him and by his powerful singing (lip-sync of course)
In fact, it is this universal yearning for human connections that has the potential to allow so many people to relate to this film . The director, Mr. Breathnach, discussed with our screening audience how he chose not to translate the words of the songs that were sung (lip-sync) by the main characters, yet it was these powerful music renditions, which clearly touched our emotions and were the strength of this movie which we highly recommend.