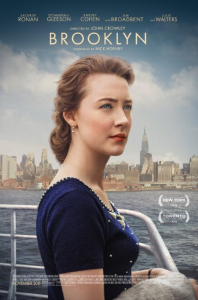 ****
Brooklyn -sp
This movie set out to describe the immigrant experience of one Irish young woman in the 1950s who leaves her mother and her her sister to come to America. The film seems to do everything right from vintage automobiles, the old country atmosphere in Ireland, the Brooklyn Brownstones, the views of the Manhattan Skyline, Coney Island including the beach with bathing suits of the time, a department store with pneumatic tubes and most of all authentic characters and their moving stories.
Producer Finola Dwyer shared with our preview audience the great efforts that were made to find the right actors for this sensitive independent movie. Although they are not well known, they all seemed perfectly casted. Eilis Lacey (Saoirse Ronan) is the young woman who is choosing to leave her mother (Jane Brennan) and sister Rose (Fiona Glascott) to make a new life in America, thanks to some contacts a priest Father Flood (Jim Broadbent), known to the family, is able to make for her. Isn't it always some contact or connection that often opens the door for the new immigrant? Eilis falls in love with Tony an Italian boy (Emory Cohen). You obviously don't have to be Italian to play one. There also is the attractive Irish lad in the old country (Domhnall Gleeson). The courtship and love story is so 1950s tender and real.
Of course there is conflict, tension and resolution although done extremely well. Nick Hornby, an accomplished author, wrote the screenplay based on the successful novel by Colm Tóibín. The music by Michael Brook was perfect. The take away from the movie was that your home is where your true love is.
The centerpiece of the movie is young Eilis who makes the trip to the United States not knowing what awaits her. She could have been your mother or your grandmother who made that trip many years ago and built a family from where we come or she could have been one of the young immigrants in the United States or elsewhere in modern times. Each one has a different love story that ultimately will make a home for a new generation. (2015)
Category: 4 Stars, Drama, Romance | Tags: 2015, Brooklyn, Colm Toibin, Coney Island, Domhnall Gleeson, Emory Cohen, Finola Dwyer, Fioa Glascott, immigrants, Ireland, Irish, Jane Brennan, Jim Broadbent, love story, Michael Brook, Nick Hornby, Saoirse Ronan Comment »