July 25th, 2016 — 1:55am
***
Café Society-rm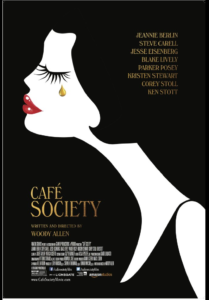 This movie is set in the 1930's, which is more of the generation of Woody Allen's parents than his own. Yet the film is in the voice of Allen who not only actually narrates the movie but also directed and produced it. The central character, Bob, played so well by Jesse Eisenberg, speaks and acts with Allen's inflections and mannerisms.
The story opens in the Bronx (Allen's hometown) and we see Bob is leaving to seek his fortune in Hollywood where his uncle Phil Stern (Steve Carell) is a successful movie agent for the stars and he hopes will give him a job. Stern is seemingly happily married for 25 years but he's having an affair and falling in love with his very young secretary (Kristin Stewart) who no doubt is half his age (sounds familiar?). Complication of complications, young Bob meets Veronica and there is much chemistry between them.
As is typical for an Allen movie, there is an intriguing plot but also great character development. The action of the film shifts back and forth between Hollywood and New York and we get to know Bob's family. We meet his mother, as you would expect, his father who is a failed jeweler, his sister and her husband who is a outspoken communist, as well as Bob's brother who is a gangster who occasionally kills people.
Hollywood and New York of the 1930's are vividly brought to life with clothes, cars, and people as real and true to life as they could be. The casting is wonderful (by Juliet Taylor as usual) and as would be expected, there is period music throughout the movie.
This may not be Allen's best film but Allen aficionados will not be disappointed and everyone will be reminded about how wonderful and complicated it can be to fall in love. (2016)