***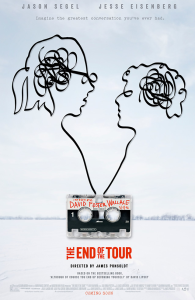 The End of the Tour – sp

David Foster Wallace was a highly acclaimed author who was cited by Time Magazine as one of the hundred best English language novelists. His life was cut short by depression and suicide at the age of 48 in 2008. Several years prior to this tragic event, David Lipsky, a writer for Rolling Stone Magazine and a novelist himself, of less acclaim, convinced his editor to let him accompany Wallace on the last five days of the book tour for his latest best selling novel, Infinite Jest, in order to write an article for the magazine.. Lipsky, in 2010, wrote a book about his encounter with Wallace on this tour, which subsequently inspired David Margulies to write a screenplay for this movie and bring onboard director James Ponsoldt.
The resultant film is a fascinating study of the chemistry and interaction between these two men as depicted by Jesse Eisenberg, as Lipsky, and Jason Segel, as David Foster Wallace. This famous author is shown to be a paradox of a confident, brilliant writer but yet as someone who consistently is concerned that he will not be found to be authentic. He desperately wants to be successful with women and yet has difficulty in establishing relationships and his best friends at this point appeared to be his two dogs. He cares that Lipsky will find him interesting and relevant. Yet, he was afraid that he, himself, would become addicted to fame and what people thought about him. Lipsky admired the literary giant that he was spending time with and yet we see an evolution of his understanding of the subject of his interview. The reporter began to identify with the struggle of the subject and was drawn to him perhaps as a comrade-in-arms. They become, for a while buddies hanging out, with two women connected with the tour (Mickey Summer and Mamie Gummer). There is also comic relief provided by another woman, their book tour escort, played very well by Joan Cusack.
Most of the movie is set in the snowy Midwest which is shown to be cold, crisp, and beautiful. The director, James Ponsoldt, has blended together this unique story and magnificent acting by Eisenberg and Segel plus a musical score background put together by Danny Elfman, which will cement your interest in what is happening on the screen.
It is interesting that we know very little about the psychological history of Wallace or the nature of his fatal depression. Many of the audience also may not be familiar with his writing. However, the connection between the two main characters sustains the movie and will hold your interest.(2015)
Category: 3 Stars, Documentary, Drama | Tags: 2015, Danny Elfman, David Foster Wallace, David Lipsky, depression, Infinite Jest, James Ponsoldt, Jason Segal, Jesse Eisenberg, Mamie Gummer, Mickey Summer, novelist, Rolling Stone Magazine, suicide, The End of the Tour Comment »