***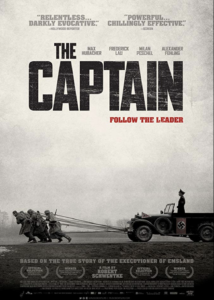 The Captain-sp
This film by veteran writer director, Robert Schwentke, which features a young German actor Max Hubacher, is a very powerful movie which shows the violence and cruelty of the German people during World War II through the depiction and actions of the German soldiers during the last two months of the war. However, it is somewhat unique in that the violence in this case is not directed towards the Jews or the allied enemy soldiers. Rather it is shown by the mass murder of German soldiers who may have been deserting at the end of the war and trying to survive by stealing food.
The story line is based on a true incident where a young German soldier isolated from his unit and being chased by other German soldiers as a deserter and a thief came upon the uniform of a German Captain and then took on the role of this officer. The story unfolds from there as this "Captain" becomes  cruel, sadistic and as murderous as anyone in the German army.
The film was shot in black and white, which according to the director, was to minimize the blood and gore of which there was plenty. The violence and murder shown in the film was strong enough to lead to a steady flow to the exit during this film from our preview audience. In the end, we are left with a very well done, all be it, uncomfortable movie which is quite provocative and no doubt will be unforgettable.
The film was in German with subtitles. (2018)
Category: 3 Stars, Drama, History, War | Tags: 1945, 2018, German, Max Hubacher, murder, Nazi, Robert Schwentke, soldiers, The Captain, violence, World War II Comment »