****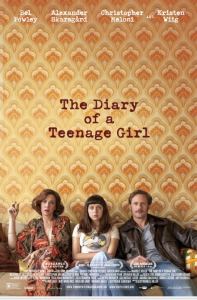 The Diary of a Teenage Girl – nf
On one hand this very well done film gets into the head and feelings of this 15-year-old girl as she has her first sexual experience. We can imagine that so many teenagers will identify with the excitement, bewilderment and glorious feelings that she relates into her tape recorder as she tries to preserve the special moments. As well done as this depiction and as universal as these feelings may be, her particular situation was certainly nowhere typical. The setting was San Francisco in the 1970s and her first lover is her mother's boyfriend. What follows is more and more sex, parties, drugs and some same-sex sex.
One would hope that all of this will not reflect the typical teenage experience. However, we would be naïve not to believe that the modern teenager may very well know some version of the scene. It is ironic that most teenagers could not be admitted to this R-rated movie. The star of this film is Bel Powley, an experienced actress who was in her early 20s when she portrays 15-year-old Minnie. Her immature party mom is played by Kristen Wiig and the boyfriend who was more of a period piece than an outright cad was played by Alexander Skaarsgard.
Credit for the success of this movie is first time director Marielle Heller, who also wrote the screenplay based on a novel by Phoebe Gloeckner. To give you an idea of her accomplishments, the Alliance of Women Film Journalists, in addition to  nominating Ms. Heller for Best Woman Director and Best Woman Screenwriter, also nominated this film for Best Depiction of Nudity, Sexuality or Seduction – a well-deserved award.
This movie goes beyond these accomplishments and captures the complicated universal joy and wonder of sexual awakening. (2015)
Category: 4 Stars, Drama | Tags: 2015, Alexander Skaarsgard, Alliance of Women Film Journalists, Bel Powley, Kristen Wiig, Marielle Heller, Phoebe Gloeckner, sexual awakening, sexuality, Teenager, The Diary of a Teenage Girl Comment »