****
The Game Changers-sp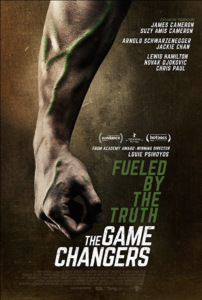 A while back, a doctor suggested to one of us that he look into a "plant-based diet" and gave him a book which he put on his reading list. Well, after this film, he moved it up and now will definitely read it with great interest.
James Wilks, an athlete and someone who has done physical training for the U.S. Marines took up this film project and was the onscreen host of the movie. He enlisted among others as executive producers James Cameron, Jackie Chan and Arnold Schwarzenegger. Needless to say they all advocate for the thesis of this film. Under the direction of Louie Psihoyos, they have put together a documentary film that will blow you away and may very well add greatly to your health and longevity.
The game changer is that there is scientific and empirical evidence that a plant-based diet with fruits and vegetables and no meat or even fish will allow you to be a strong, muscular, athletic person and have good health and live longer. A good documentary movie needs to demonstrate things with real people and not just boring scientific facts. In this movie, we meet a host of healthy athletes who lift the heaviest weights, show the most physical endurance running races and all sorts of fighting and other physical competition. We meet football players and other athletes and are also shown scientific research facts which confirms the main point of this movie.
If you care about your health and the health of your family, you have to take this movie seriously. You will want to share it with people that you care about. In a post film discussion with Mr. Wilks, he made the point that this need not be an all or nothing project but the facts and empirical evidence are there and this is a "game changer" of a film which can change your life. (2019)
Category: 4 Stars, Documentary | Tags: 2019, Arnold Schwarzenegger, athletes, fruits, health, Jackie Chan, James Cameron, James Wilks, Louie Psihoyos, plant based diet, The Game Changers, vegetables, vegetarian Comment »