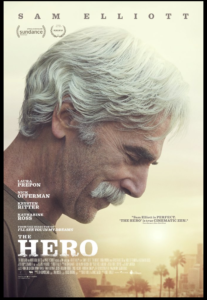 **
The Hero – sp
Sam Elliot is a captivating actor, tall, rugged with an unbelievable resonant voice. He plays such a character in this film which was specifically written for him by Brett Haley who is the director and screenwriter. Mr. Elliot even admits that the actor he plays in the film is somewhat like his real self, but the plot is fortunately not his story.
Lee Hayden (Elliot) is an over the hill actor in his early 70's, long time divorced and estranged from his daughter Lucy (Krysten Ritter). He once starred in a very successful cowboy film but now does mostly voice-overs. He also has a newly discovered challenging health problem at the same time he has met Charlotte, a young woman (Laura Prepon), and they share a mutual attraction to each other. Did we say young woman? She is actually in her 30's. almost a 40 year difference. Our hero has to try to figure out this relationship while facing his own mortality and trying to make peace with his daughter. At the same time, he may have the opportunity for a great part in a new movie.
The problem with this situation and the problem with this movie is as far as we're concerned is that we really don't understand these characters. We don't know the real backstory on this young woman who is attracted to this older man nor do we understand why our hero got divorced from his wife (who by the way is played by Katherine Ross, Mr. Elliot's real life wife).
In a post-film interview with Mr. Elliot, we learned a little bit about how he has approached his own career and didn't try to play characters that he couldn't relate to. However, this movie we believe didn't offer much insight into the personality of the main character and his issues. We give kudos to Mr. Elliot as a compelling actor, but we can't recommend this film (2017)
Category: 2 Stars, Drama, Romance | Tags: 2017, actor, Brett Haley, cowboy, Katherine Ross, Krysten Ritter, Laura Prepon, Sam Elliot, The Hero, voice over Comment »