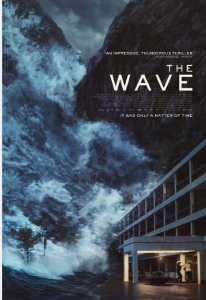 ***
The Wave- sp

This film was the entry from Norway for the Best Foreign Film for the Academy Awards. It shows a beautiful community with magnificent fjords, mountains surrounding a body of water. It looks like a lovely place to live or visit. But much like Southern California, they have had natural disasters in the past which eventually can happen again. In this case, instead of an eventual earthquake, it can be an avalanche of a crumbling mountain, which would fill the water and create the inevitable rising up of a tremendous mountain of water or a tsunami. The possibility of such a disaster is constantly monitored so people can be warned if it should be about to happen. This is the setting for this film and the dramatic build-up of tension as we meet some of the people who are monitoring the possibility of a tsunami and we will also meet the family of one of them. This part of the film could not have been done better.
The movie is directed by Roar Uthaug, who participated in writing the story and the screenplay with Martin Sundland, and John Kare Raake. The main character is Kristian who is played by Kristoffer Joner.
You are on the edge of your seat even though you are pretty sure what is going to happen. You just don't know exactly how it's going to go down and how it will impact the characters that you have met. When things eventually break loose, the special effects are outstanding. We have a combination of horrific things happening and in the midst of it, among the many frightened people, are the characters that we care about.
So far so good, but then we realized that the plot is becoming thin and unbelievable. No matter how good and realistic the special effects may be, when the story becomes a "fairy tale" the movie loses a great deal of its credibility and becomes almost laughable. In retrospect, the characters were stereotypical with very little complexity. Yes, it is scary and we live in earthquake country so it reminded us that you never know if the next disaster is around the corner. But that is really all the movie was able to do. (2016)
Category: 3 Stars, Drama, Foreign, Thriller | Tags: 2015, earthquake, fjords, John Kare Raake, Kristopher Joner, Martin Sunland, Norway, Norwegian, Roar Uthaug, tsunami Comment »