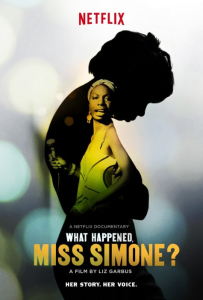 ****
 
What Happened, Miss Simone? -nf

This Oscar nominated documentary biography will grab you and hold your attention and your emotions. You will re-experience the meaning that the Civil Rights Movement may have had to you and how you understand its significance in this country. Music as it always does, creates and brings out deep-rooted feelings and the haunting music and lyrics of this gifted singer and musician will do just that. You will come to understand who Nina Simone was and where she came from and what she was trying to do. But this film will also raise questions about Miss Simone, as a wife, mother, and troubled soul that will remain unanswered although undoubtedly you will share our admiration for her.
Nina Simone grew up as the preacher's daughter in North Carolina. She was noted to have musical talent and as a young girl she played the piano in church. She went on to get formal music lessons and she had a lifelong unfulfilled wish to be the first black classical concert pianist. She also , clearly, experienced the pain of the Jim Crow South and multiple occasions of blatant discrimination because she was black.
This film documents what she did become and that is a widely acclaimed blues singer with a very distinctive style. When the Civil Rights Movement burst upon the scene, her music and words became part of its anthem alongside of Martin Luther King and others. This was symbolized by the controversial song ( click to hear this great song) which was embraced by the movement but apparently ultimately marginalized Miss Simone's ability to work in the musical industry.
The details of Miss Simone's journey were very well documented with film clips and interviews with people who were very close to her including lifelong friends, fellow musicians, her husband, and her now grown daughter. One of the most fascinating and convincing parts of this documentary film was the showing of the handwritten pages of her own diary. These scribbled words with printed subtitles at the bottom of the screen, documented her love and dependency on her husband, a former New York City policeman who guided a good part of her successful career but also apparently viciously beat her according to her own words. We do not really understand why and how she tolerated him so long before divorcing him. Nor do we understand how she could suddenly leave her loved only young daughter with her good friend and abruptly go off to Europe to try to revive her career.
Her own diary also documents her bouts of suicidal thoughts during this period. As a psychiatrist, one of us (MB) knows we can never properly make a diagnosis or understand the clinical issues in someone we have never seen in our consulting room. However, it should be stated that in her late years, we clearly see a very depressed woman. We are told in the words of her grown daughter and others that she had a diagnosis made of manic-depression and was prescribed "Trilafon" (a second generation antipsychotic medication – not usually the medicine of choice for this condition). We are also told that the medication helped her a little bit. It is also stated that she subsequently had certain symptoms of stiffness and twitching of her lip which are common side effects of this medication that was given to her. While we certainly don't know all the details we can't help wondering if she had the best treatment
Miss Simone died at the age of 70 and we do not know too much about her last few years. We have come away from this well-done documentary film by director and producer Liz Garbus with an appreciation how this talented woman was able to find her destiny at the same time that she was able to touch the emotions and express the voice of so many people during the Civil Rights Movement in this country. Through this film and her music, there is the opportunity for her work reach future generations. (2015)
Category: 4 Stars, Biography, Documentary | Tags: 2016, blues singer, civil rights, Civil Rights Movement, depression, Liz Garbus, Martin Luther King Jr., Mississippi Goddamn, music, Nina Simone, singer, What Happened Miss Simone? Comment »