***
Where's My Roy Cohn?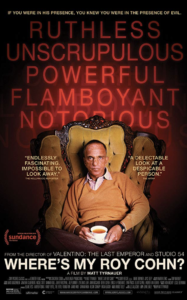 Roy Cohn was an attorney who died more than 30 years ago and yet his memory is kept alive not only by this documentary  film but by the title of it which was recently uttered by President Donald Trump who was one of Cohn's many famous clients. Cohn was one of two of Trump's personal attorneys to be disbarred for misconduct as a lawyer. The other one was Michael Cohen who is currently in prison.
Roy Cohn first came to public attention as the chief attorney for Senator Joseph McCarthy during the famous McCarthy hearings which occurred in the 1950s as McCarthy was trying to root out communists in government. Cohn was also in that position as McCarthy's committee was investigating supposed communists infiltrating the Army Signal Corps. Subsequently, the army accused McCarthy and his staff for seeking special treatment for Private David Schine who was the close friend of Cohn's and who had been drafted into the army. This film suggests that Cohn was secretly a homosexual and may have had a relationship with Schine. Cohn never admitted he was gay and he vehemently denied that he had AIDS although it was documented that he had been hospitalized in an AIDS treatment center and eventually died of this disease.
We found this film which was directed by Matt Tyrnauer to be somewhat repetitious. It became clear that Cohn  was a brilliant although a vengeful and dishonest man. It is hard to believe that the President of the United States would wish that he had an attorney like him. On second thought, maybe we shouldn't be surprised. (2019)
Your comments are welcome below
Category: 3 Stars, Biography | Tags: 2019, AIDS, gay, homosexaul, Joseph McCarthy, Matt Tyrnauer, Michael Cohen, Roy Cohn Comment »